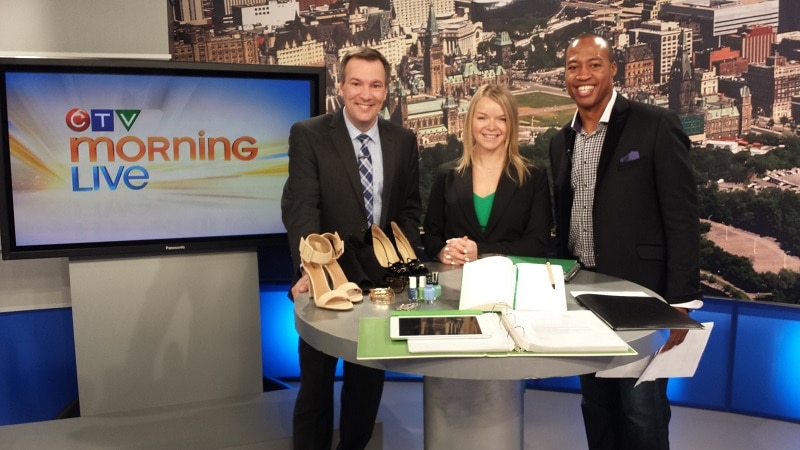 From left to right: Jeff Hopper, Sonya Meloff and Henry Burris
March 30th, 2015
Sonya Meloff, Co-founder of Canada's largest sales recruitment agency and the Great Canadian Sales Competition spent her morning at CTV News Ottawa with Henry Burris, CFL Super Star and Jeff Hopper, CTV Morning Live Host sharing her five tips to get a job.
Sonya Meloff – "At Sales Talent Agency we meet tons of people, everyday, from a diverse array of background but, surprisingly, we see a lot of common mistakes people make when they go for their interview".
Follow these five easy steps to differentiate yourself from the rest and land your dream job:
1. Don't be distracting
Don't distract attention from yourself and your goal. Don't wear chunky jewelry or dangly earrings. Remember, sometime less is more.
2. Do assume you are being watched
You never know who may be watching you. Make sure to be ready, before you leave home. Don't be caught putting your tie on in the parking lot!
3. Stash it!
Finish your calls, emails and texts outside, even before you step foot into the building. It doesn't look professional when you walk into a reception area with your nose buried in your phone. The same goes for coffee cups – your caffeine fix can wait an hour.
4. Be Ready
Show that you are prepared by having a pen and book in hand.
5. Bring your Brag Book, be prepared
Bring your brag book, portfolio, certificates, accolades, letters of referral – you always want to show that you are not only prepared but over-prepared!
To watch the full interview click here
---
For more information visit: www.salestalentagency.com