By: Vanessa Perplies, External Communications Lead at Lusha
(and a former salesperson of 5 years)
What will you read today?
Learn what sales enablement is and why your SDR team needs it to succeed. You'll learn about creating a world-class SDR process, key KPIs you should be measuring, and the sales enablement tools every winning SDR needs in their tech stack. 
So, what is sales enablement anyways?
In a nutshell: sales enablement is the process of providing your sales team with the information, training, and resources they need to close more deals.
This could be everything from investing in winning sales enablement tools; this typically includes a sales intelligence tool to find leads and b2b contact details, a technology stack like a CRM to track all prospect and buyer journey information, a sales outreach tool to automate outreach, and the content a sales team needs to nurture prospects on their buyer journey.
Sales intelligence isn't just investing in the right tools though, it's also the process your team should follow in order to qualify, nurture leads and race them towards the finish line.
Why is sales enablement important?
The famous Peter Drucker quote comes to mind "if you can't measure it, you can't improve it."
A sales enablement process is so crucial to your success because it empowers your sales team to overachieve.
When it comes to sales, the Pareto principle or the 80/20 rule comes to mind. This means, 20% of your sales reps will be responsible for 80% of your sales, and vice versa, 80% will be responsible for the remaining 20%. A winning sales enablement process helps you not only to ramp up top performers (your top 20%) but also improve the 80% – your "average" performers. All of which translates into more sales.
Additionally, at a time when more SDR teams are working completely remote, a methodical sales enablement process is crucial for successfully onboarding and hiring SDRs.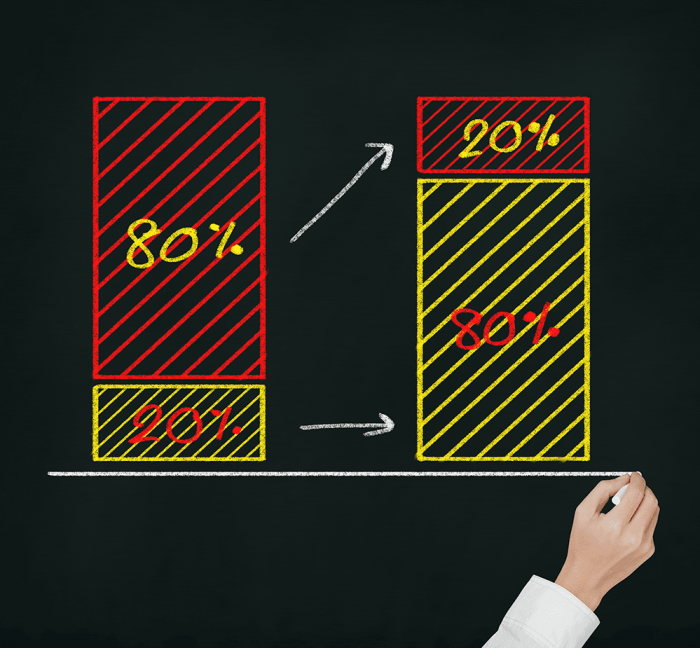 The Sales KPIs and Metrics You Should be Measuring
Here is a list of the most commonly measured sales metrics. However, which sales KPIs matter to you and your team depends entirely on your product or service, sales process, and the goals indicated by key management.
For example, product mix could be relevant to measure at an organization with six different product lines, vs a company with only one product. What you measure and how much weight you put on each KPI is entirely up to you.
Commonly Measured Sales Metrics to Keep Your Sales Team on Track:
1. Time to revenue: This is a measurement that tells you how long it takes a prospect to become a paying customer, from first touch to last touch.
2. Quota attainment: This is a timeline that allows sales to understand how long it will take a particular lead to hit its target.
3. Lead conversion rate: This is the proportion of qualified leads that turn into actual sales.
4. Time spent actively selling: A productivity metric, which shows how long sales reps spend selling (as opposed to other things like updating their CRM, sitting in team meetings, etc.)
5. Content usage: This metric evaluates how important each piece of content is in your stack, and often includes. unique visits to that piece of content and how long a prospect spends digesting that piece of content.
6. Sales funnel transition rates: This is the time between transition points in your funnel, i.e. time it takes for prospects to transition from marketing to sales. (It's especially important to have an open channel of communication between sales and marketing in order to bridge the gap between your sales and marketing team.)
7. Average win rate: This is the percentage of opportunities quoted, that the organization eventually won.
8. Average purchase value: This is your average value of each purchase made by your customer, or the average sales value of each sales transaction you process.
9. Number of closed deals: This is how many qualified leads result in a closed deal.
10. Product mix: This is the percentage of products included in a closed / won deal (or how many products your prospect purchased.)
Winning Sales Tools to Keep in Your Tech Stack
Now that you have a good starting point of what to measure, let's discuss the sales enablement tools that can help your team SDR stay focused. 
In B2B sales today, more SDRs are moving from strictly inbound to both an inbound and outbound motion, helping to generate new pipeline in addition to qualifying pipeline solely generated from marketing activities. 
While official numbers don't exist, we estimate that SDRs spend 60-70% of their time on inbound prospecting, with 30-40% of their time on outbound prospecting. (According to Lusha's internal data, surveyed from over 1,000 product feedback and case study interview calls with SDRs.)
Given that the SDR function is now both inbound and outbound, here are sales enablement tools you should consider implementing when building a winning sales enablement strategy:
1. Prospecting Tools and B2B Contact and Company finder tools:
A prospecting tool is one that allows you to search for and generate a list of thousands of ideal prospects that match your Ideal Customer Persona (ICP.)
(For those who don't know,your ideal customer persona is your customer avatar, or a set of characteristics which determine the ideal customer that's most likely to be a perfect fit for your product or service.)
Prospecting tools use a number of smart filters, like location, revenue, industry, position, and more, to generate that list of "best fit" prospects. Lusha is one such b2b prospecting and b2b contact finder tool that's free to sign up for (with no credit card required,) and which gives SDRs 5 free leads every month. All you need is a business email address to sign up and in seconds you can find your first prospect for free. The Lusha prospecting tool allows you to generate lists of 1,000s of ideal prospects, and reveal their accurate b2b contact data in one click (direct dials and email addresses.) In one click you can save that information to a prospecting list, your CRM (like Hubspot or Salesforce,) or a Sales Outreach tool (like Outreach or Mailshake.)
There are a number of other high-quality B2B prospecting tools in the space that are well-rated, such as ZoomInfo, Seamless AI, Cognism, and more.
2. Customer CRM
Once your sales team has generated a list of ideal prospects using their preferred B2B prospecting tool, you'll definitely need a CRM to keep all customer data accurate and up-to-date.
CRMs like Salesforce, Hubspot, and Zoho are perfect to organize your prospect and customer data, so that when salespeople find prospect contact information in a prospecting tool, that data is saved in your CRM. This is the best way to ensure that all customer data is kept up to date, prevent data decay, and centrally organize all customer interactions and purchases.
If you're already using a customer CRM in your organization, it's a wise idea to ensure your sales prospecting tool integrates with your CRM, so that SDRs can spend more time selling, and less time manually inputting data into their CRM or Sales Outreach tools. This helps avoid manual inputting error, frees up more time to conduct sales, and ultimately helps SDRs generate more pipeline.
3. Sales Outreach and Automation Tools
Once your SDRs know which prospects they want to reach out to, depending on your sales process, they'll either directly call or engage prospects with an email.
Email is also an excellent option if prospects don't have a phone number listed in a sales prospecting tool, or if a prospect has gone cold.
Sales automation tools like Outreach and Mailshake help you to create sales cadences with customized text, in order to engage prospects and (hopefully) get them into a sales cycle.
The right sales automation tool will ensure your emails are deliverable, don't go to the spam filter, and that you can A/B test your email subject lines and text to ensure maximum open rates, click through rates, and responses.
4. An, Accessible Organized Content Management System
One of the most important sales enablement tools that SDRs have at their disposal is a well organized content management system.
Today, it takes an average of 8 touchpoints just to get an initial booked meeting in B2B sales. The average B2B sales process is 4 months, and averages 6.8 stakeholders in order to close a deal.
B2B buyers are smarter, savvier, and more time-pressed than ever before. An organized and accessible content management system, with content that prospects need to push them to the next phase of the sales process is crucial. This is everything from customer quote forms, to customer case studies, product one-pagers, demo videos, and more. While the type of content will vary greatly on what you sell and your internal sales process, your content management system needs to be accessible, well-organized, and trackable. It's crucial to understand which content makes the biggest difference in the sales cycle, what content is most viewed, and how long a prospect spends consuming each piece of content.
Sales Enablement Recap and Next Steps
If you don't have a sales enablement process in place, you're missing an incredible opportunity to generate more revenue. Sales enablement processes are crucial to focus SDRs on a common goal, help them optimize their time, focus on selling to prospects most inclined to buy, and convert more leads to sales. Next steps are to align with key management on the KPIs your SDRs should be focusing on. Then, you'll need to think about the tools you need to get your SDRs surpassing their goals, like a sales prospecting tool, CRM, sales outreach tool, and accessible content management system. Good luck!