by Asad Zaman
The current state of the economy is equal parts terrifying and fascinating.
From the zero-interest rates era – which meant virtually free money and funding rounds galore – we've been jolted into one in which capital is tight and startups have to justify every dollar they raise.
Not every company was built to withstand the whiplash. The result: rampant layoffs, drumming up demand feels like squeezing blood from a stone, and close ratios have nosedived to a 15-year low. Employee morale is in the gutter and the once red-hot job market is losing its luster (particularly in tech).
Like many of you, I spend a lot of time seeking to understand this new world and how best we can position ourselves in it. My perch gives me the privilege of reaching out to some of the sharpest minds across industries, from operators to investors to analysts, to help me create a map that can guide us through it all.
So far, I've done a shoddy job of sharing all this intel with you in a systematic way. That changes today.
We're launching our newsletter: The Battlecard. In it, I hope you find the competitive intelligence that can help you navigate this crazy market; a go-to hot sheet that weaves in news, analyses and takes (some hot, some cold) on the market. I hope you get value out of it, and maybe even share it with folks who might find this useful.
Let's get started!
Battlecard Briefing: YoY Attrition & Employee Growth Rates at Series Across Company Stages
The backstory: a few weeks ago one of our VC partners – who happens to be one of the top 5 VC firms in the world – asked us if we had seen any information about attrition and employee growth rates at tech companies recently.
We hadn't.
We did some digging, and still couldn't find anything great.
So, we took matters into our own hands.
We looked at 25 B2B SaaS companies per stage, ensured they were all headquartered in North America, and raised their rounds between Jan 1 2021 and March 1 2023 from 12 of the world's leading VC firms (to qualify for quality).
And, the results were surprising to say the least.
In a nutshell: what we see on LinkedIn or in the news does not show the full picture.
Here is what we found:
Typically, attrition decreases as a company matures. Why? Early stage companies are resource constrained and have a lot to build and figure out, including a repeatable, predictable and scalable GTM motion at the Series A stage. Mature companies have more resources and organizational maturity, which correlates with lower turnover.
But, our research showed that the current trends defy the typical pattern. In most cases, attrition increased as companies matured, with sales attrition spiking into the 40%+ range at the Series C and D stages. But, this makes sense because currently fundraising is hardest for growth stage companies, and so they have to cut costs, and since people are their #1 cost, attrition has to be high there.
Insider Intel: for every $1 that growth stage companies raised in Q1 2023, they needed $3.2. This indicates more layoffs coming later this year.
Public companies should and did have the lowest attrition out of the cohorts – no surprise here.
The next logical question: are these companies growing or contracting? We were really interested in this, as we are in the business of helping companies hire elite GTM professionals and want to know if they are hiring or not. Luckily, they are hiring, and more than most of us thought.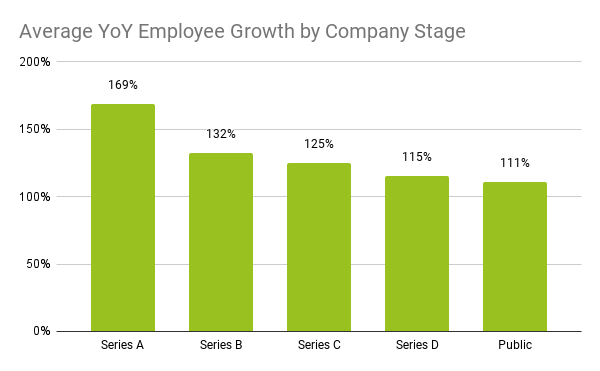 The YoY changes in the average number of employees within each stage illustrates growth, but a more measured approach to growth than what we would have seen in 2021 and 2022. This makes sense based on the overall state of the economy and especially the state of fundraising for B2B SaaS companies.
Our hunch was that we would see this, because we know that 1M+ tech professionals have taken new jobs in the past 12 months, and there are 600K open tech jobs in North America today (2x of the total number of people laid off in tech globally between 2022 and 2023). That said, we were a bit surprised to see growth at the Series C and D stages, as companies at this stage are in the toughest situation when it comes to fundraising (see Insider Intel in the previous section).
So, what does this mean for you?
Mass layoffs, especially in the growth stage of tech, are pushing attrition rates higher. Sales teams, in particular, experience higher attrition as companies streamline their sales forces, adjust GTM strategies, and, in some cases, shift from SLG to PLG business models.
But, companies across all stages are still showing YoY growth when it comes to total employees. Often in such markets we hear that 'hiring is at least going to be easier.' There are examples of when that was true, like the peak of the 2000 bubble bursting, and the worst moments of the 2008 great financial crisis. In both those moments, demand for talent was non-existent, and layoffs were in the millions. That's not the case right now.
In this market, hiring is still tricky because:
We have exited a period of low interest rates and will be in a period of non-zero percent interest rates for some time. Everything from fundraising to driving demand and closing deals is harder in this environment. So the people we need to bring on have to be the absolute best for us to have a shot at generating momentum in this market.
Those individuals are probably less than 5% of the people out there – at least in sales that's true – and if they have stability they are going to hold onto it. If they are looking, many great companies are looking for them, so you are in for a fight.
We know there have been layoffs, and we know there are open jobs, but not everyone looking is able to find a job right now. Why? We'll dive into this next week.
If you or someone in your network is looking for a GTM role in North America, check out our job board that has 150+ open roles on it.
Podcast Plug: Introducing Topline
Yes, just when you thought there were enough podcasts out there, we launched a new one. Turns out there was room for one more because we are growing at 4x the rate of a normal new podcast.
The Goal: Every week Sam Jacobs (Founder and CEO of Pavilion), AJ Bruno (Co-Founder and CEO of QuotaPath) and I break down what's happening in the world of tech, and how it applies to Founders, CEOs and GTM Professionals. We want it to be insightful and entertaining, and this listener thinks we are on the right track: 'it's a blend of wall street journal meets comedy central.'
This week we spoke about:
AI valuations: tech is really the tale of two cities right now. It's the best of times for AI companies, and the worst of times for everyone else. AI companies are raising money as easily as everyone did in 2021 and 2022, at valuations of 50x-100x of ARR. Even with all the excitement I have for AI right now, I worry that we are making the same mistakes that we made in 2021 and 2022 from a valuation perspective.
Debate on if VPs of Sales should have side hustles: we debated if it's ok for a VP of Sales to have a side hustle or not. AJ and I were against the motion, and Sam was for it. It was a lively debate and in the end, we all found common ground, but you have to give it a listen to see what that common ground was.
Listen, follow and show some love wherever you listen to podcasts: Apple, Spotify or YouTube.
I hope this was interesting and insightful for all of you! If you have topics you want me to dig into, shoot them over my way. In the meantime good luck, good health, and goodbye.
Asad Zaman, CEO of Sales Talent Agency